(__Updated Saturday 10DEC2011.__) On 28th of June 2011, Microsoft Office 2010 Service Pack 1 and the Access 2010 Runtime Service Pack 1 were issued.
After upgrading my development machine (Win7 x64) and a few clients (Windows 2008R2 x64) to SP1 (x86), I started to get strange issues:
* I use .Net libraries from my Access application and suddenly, even when not instantiating any .Net objects, Access would crash, usually on startup, but sometimes when opening the VBE.
Decompiling and re-compacting the database would be OK, usually once, but the problem would reappear the next time I would restart the application.


* In the Runtime, I would get strange errors, such as _The setting your entered isn't valid for this property_, or _Action Failed Error Number: 2950_, or _Runtime Error 3270 Property not found_.
The strange thing about these errors is that they would occur in places that had not been modified for many releases of our application, parts that have been running without problem until now.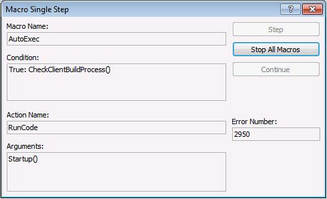 * Another weird issue was the systematic reset of our custom ribbon to its first tab. this could happen randomly, but most it could also be reproduced by simply opening a report as a tab page (that fill-in the whole MDI window). When closing that form, the first tab of the ribbon would select itself automatically. This wasn't happening when closing pop-up windows.
After removing the Office and Runtime Service Pack 1, everything went back to normal.
### A fix, finally!
A good 6 months after SP1 was released, Microsoft finally issued [hotfix][4] for the issue!
So, [read about it on the MS Forums][3] and get your [KB2596585][4] hotfix, then [decompile][5] your database to clean it out.
[3]:http://answers.microsoft.com/en-us/office/forum/office_2010-access/access-2010-sp1-you-receive-random-crashes-in/d2bf6175-075a-4a12-a2b1-f55d40af271b?page=17
[4]:http://support.microsoft.com/kb/2596585
[5]:http://www.trigeminal.com/usenet/usenet004.asp